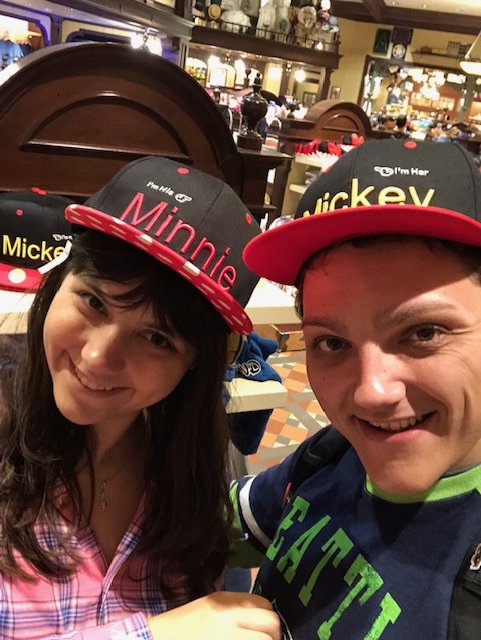 Content Count

50

Joined

Last visited
About Jamie Solo
Rank

Member

Member #

319524

Location

Seattle, WA, USA
Immigration Info
Immigration Status
Place benefits filed at
Country
Immigration Timeline & Photos
kaylov

reacted to a post in a topic:

Flew from UK to US on CR-1 Visa

ReneeGG

reacted to a post in a topic:

Flew from UK to US on CR-1 Visa

Jamie Solo

reacted to a post in a topic:

Flew from UK to US on CR-1 Visa

Thanks! And there is a line on being exempt to risk of labor market in the visa, but nothing about the travel ban.

Hey guys, thought I'd give a quick post so people can know a bit more about what to expect when travelling on a Spousal Visa during all the restrictions from COVID. And since I'm in the US now, obviously did it right 😜 My flight was booked with British Airways. Manchester to Heathrow and then onward to Seattle. After booking my flight and managing my booking I did attempt to say I had a proper visa (not ESTA) as there was an option. It accepted it and I thought it worked. Turned out it didn't cause when online check-in opened, they flagged me and said I had to do it all at the airport. This happens in a few cases for BA but the check-in staff at the airport confirmed it was cause of the visa issues when I got there. Got to the airport in Manchester and handed over my passport. They looked at my visa and had a senior person look it over. They spoke about how it should be okay since it was issued in July. I explained that if they needed I have marriage certificates, a copy of US spouses passport etc. if they wanted to look at it. They were then happy to send me on my way to Heathrow but warned me I might get taken aside to go over all of this stuff when I'm boarding. In Heathrow, after handing over my passport, the agent checked with someone behind him. They gave a thumbs up and I was on the plane! So the people in Manchester either passed on that I had everything or they were just happy with the issuance of the visa. Either way, I only needed the visa in the passport, and I didn't show any additional stuff. Arrived at SeaTac, did my COVID checks and got to immigration and it was business as usual from there like you've seen in many posts before! Except my fingers were so dry from hand-sanitiser that my fingerprints took a few tries lol

Alix64

reacted to a post in a topic:

Case Complete to Interview July 2020

KandR18

reacted to a post in a topic:

Case Complete to Interview July 2020

It's very clear you asked for reasons in the context of hoping to skip the queue and get to the front of the line, cause if you have to grasp for reasons, they probably don't exist. I simply responded in kind, to how you responded. But, I recognise I am having a tough time right now, like everyone on here which means you too. So I'll give a helpful answer; Simply. there's no clear cut yes or no for expedite reasons. Because at the embassy stage, it entirely depends on the country policies and on the person reviewing the expedite. Some embassies are happy to approve for financial reasons, others aren't. Some embassies will expedite for seemingly insignificant things, others will laugh you to the back of the line. So examine the situations for you and your family in both countries and see if anything sticks out as a hardship (outside of being apart cause that won't work). If it doesn't, then you'll have a very hard time getting stranger to sympathise and approve your request.

I'm sorry, do you think you're the only one going through the hardships of being separated from your family? Don't get snarky with MigSea. You aren't special in this forum.

The vaccine is available in the UK. Just not on the NHS. Source: my GP ordered it in and I got the jabs lol

Alix64

reacted to a post in a topic:

Case Complete to Interview June 2020

Tofu

reacted to a post in a topic:

Case Complete to Interview June 2020

Has anyone that got DQ since the lockdown started with embassies had their case updated on NVC to have it changed from @NVC to their respective embassy? Just trying to get a sense of anything that might be happening behind the scenes lol

MattyUKtoUS

reacted to a post in a topic:

NVC Filers - April 2020

Its been 3 weeks since I got DQ and still no word from London. My case on the NVC site also says its still at NVC so to me it looks like staff in London aren't even in for doing processing behind the scenes right now.

Where do you plan on interviewing? Because without residency or a work permit in Mexico (unless they do things differently), you won't be allowed to interview in Mexico.

vinzer

reacted to a post in a topic:

NVC Filers - April 2020

Jamie Solo

reacted to a post in a topic:

NVC Filers - April 2020

So, after a first submission in December, and a second submission on the 28th of January, I can finally say we got DQ!! Such a damn relief to say that! 😅 So to everyone waiting, just be patient and your time will be coming soon! We've chosen a long and struggle filled road going through this process but the end result will make it all worth it!

To add onto Jules, mine was the 28th. I should hear before both you and Arshia logically. But I haven't. Patience is the most important thing to have. Especially right now.

Its a visa to let people come and temporarily work in the US. Like if farms need a bunch of extra people and everything. Seasonal stuff. Which is why its a national security thing. Food supply. The US government does not consider bringing spouses to America a top priority. There's delays cause of a global pandemic that's infecting hundreds of thousands of people...

NVC is making good progress during all of this and as of 30th March, they're processing documents received on 23rd of January! Really hoping I get DQ this week now since my second submission was 28th of January!

I resubmitted 8 weeks ago. So don't expect to hear anytime soon.

Jamie Solo

reacted to a post in a topic:

USCIS Office re-openings?

Given the current situation with interviews and things, I doubt it will delay your application unless Malaysia has long wait times for interviews. But changing embassies is easy! If you use the contact form on the NVC site, explain that your husband is moving back to his home country etc. and provide his new address/contact details. And just to make things easier, attach evidence of your husbands address in Malaysia (his passport or drivers license from there or some type of bill would be fine) and proof that he's no longer resident in the UK such as an exit stamp, flight itinerary or something.

There are numerous excellent data security reasons as to why these people can't work from home actually. While they could be doing a lot to improve the situation at work, working from home isn't one of them without millions of dollars being invested in a secure system that even then is extremely susceptible to social hacking. So no, they aren't going to go down the route of making everyone's social security numbers, passport info, family details and other info that are great to know in order to steal additional info, and countless other sensitive documents easily intercepted.