acmanu's US Immigration Timeline
Immigration Checklist for M & A:
| | | | | | |
| --- | --- | --- | --- | --- | --- |
| USCIS I-130 Petition: | | | | | |
| Dept of State IR-1/CR-1 Visa: | | | | | |
| USCIS I-751 Petition: | | | | | |
| USCIS N-400 Petition: | | | | | |
IR-1/CR-1 Visa

Event
Date
Service Center :
Texas Service Center
Transferred?
Vermont Service Center on 2020-05-07
Consulate :
Montreal, Canada
Marriage (if applicable):
I-130 Sent :
2019-07-22
I-130 NOA1 :
2019-07-22
I-130 RFE :
2020-05-22
I-130 RFE Sent :
2020-06-06
I-130 Approved :
2020-06-12
NVC Received :
2020-06-12
Received DS-261 / AOS Bill :
2020-06-13
Pay AOS Bill :
2020-06-13
Receive I-864 Package :
Send AOS Package :
Submit DS-261 :
Receive IV Bill :
Pay IV Bill :
Send IV Package :
2020-07-07
Receive Instruction and Interview appointment letter :
Case Completed at NVC :
2020-07-10
NVC Left :
Consulate Received :
Packet 3 Received :
Packet 3 Sent :
Packet 4 Received :
Interview Date :
2021-03-29
Interview Result :
Approved
Second Interview
(If Required):
Second Interview Result:
Visa Received :
2021-04-06
US Entry :
Comments :
Processing
Estimates/Stats :
Your I-130 was approved in 326 days from your NOA1 date.

Your interview took 616 days from your I-130 NOA1 date.
Member Reviews:
Consulate Review: Montreal, Canada
Review Topic: IR-1/CR-1 Visa
Event
Description
Review Date :
April 5, 2021
Embassy Review :
I took an Uber from my hotel at 7:40 AM and was outside embassy at 7:50 AM, it was really windy and cold that morning. We stood outside till 8:00 AM and the guard came out to let us in. One guy returned from US 3 days ago and was not allowed to enter the building. After I was let in the guard asked my name and crossed it off on the list and then asked me questions regarding Covid symptoms. After that I was taken to the security check where I kept all my documents and coat in the tray for screening and then I was given a locker for storing my phone. Then another guard took me to floor 1 where I was asked to report to window 6. I stood there for 10 minutes and no one came and then a lady showed up and asked for my passport and gave me a ticket with a number. I was called again at the window where I submitted my marriage certificate, birth certificate, updated 2020 taxes and W2 and was then given the domestic violence pamphlet. I asked if 2019 tax transcript is required and the lady said 2020 taxes are sufficient. I was told everything is fine and I can sit and wait for my number to be called for interview. I waited around 40 min and was called for interview and was asked following question


1. My name and date of birth?
2. Who is sponsoring me?
3. How did we meet?
4. What do I like about my wife?
5. Did I read the pamphlet? - Now just a note on this one @Prairiegirl3 mentioned the officer was not happy if you say you haven't read the pamphlet, so I made a summary and responded to the officer. He was really happy.

After that I was told I was approved and will get my passport back in 2-3weeks. I then asked the officer if he has copy of my PR card and also if he can cancel my B1/B2 visa on the old passport aswell and he made a note on that.

My status changed to ISSUED - AP on day of interview and Issued Final Processing on next day March 30, 2021. I received tracking number on Friday April 2, 2021 and currently waiting to receive my passport in interior BC.

Thank you everyone on the forum for the help!
Rating :
Very Good
Timeline Comments: 2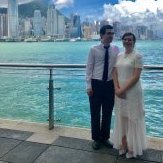 IsItLekker on 2020-02-25 said:
Hey guys! Any word on your petition?

Acmanu on 2020-03-05 said:
Nothing yet PD July 22, 2019
*Notice about estimates: The estimates are based off averages of other members recent experiences
(documented in their timelines) for the same benefit/petition/application at the same filing location.
Individual results may vary as every case is not always 'average'. Past performance does not necessarily
predict future results. The 'as early as date' may change over time based on current reported processing
times from members. There have historically been cases where a benefit/petition/application processing
briefly slows down or stops and this can not be predicted. Use these dates as reference only and do not
rely on them for planning. As always you should check the
USCIS processing times
to see if your application
is past due.
** Not all cases are transfered

ver 5.0