tslei's US Immigration Timeline
Petitioner's Name: Tracy
Beneficiary's Name: Devan
VJ Member: tslei
Country: Canada
Last Updated: 2019-04-09
Add Comment to Timeline


Immigration Checklist for Tracy & Devan:
| | | | | | |
| --- | --- | --- | --- | --- | --- |
| USCIS I-130 Petition: | | | | | |
| Dept of State IR-1/CR-1 Visa: | | | | | |
| USCIS I-751 Petition: | | | | | |
| USCIS N-400 Petition: | | | | | |
IR-1/CR-1 Visa

Event
Date
Service Center :
Potomac Service Center
Transferred?
No
Consulate :
Montreal, Canada
Marriage (if applicable):
2017-10-07
I-130 Sent :
2018-02-20
I-130 NOA1 :
2018-02-28
I-130 RFE :
I-130 RFE Sent :
I-130 Approved :
2018-10-05
NVC Received :
2018-12-17
Received DS-261 / AOS Bill :
Pay AOS Bill :
2018-12-20
Receive I-864 Package :
Send AOS Package :
2018-12-30
Submit DS-261 :
Receive IV Bill :
Pay IV Bill :
2018-12-19
Send IV Package :
2019-02-09
Receive Instruction and Interview appointment letter :
Case Completed at NVC :
2019-02-13
NVC Left :
Consulate Received :
Packet 3 Received :
Packet 3 Sent :
Packet 4 Received :
Interview Date :
2019-04-08
Interview Result :
Approved
Second Interview
(If Required):
Second Interview Result:
Visa Received :
US Entry :
Comments :
Processing
Estimates/Stats :
Your I-130 was approved in 219 days from your NOA1 date.

Your interview took 404 days from your I-130 NOA1 date.
Member Reviews:
Consulate Review: Montreal, Canada
Review Topic: IR-1/CR-1 Visa
Event
Description
Review Date :
April 10, 2019
Embassy Review :
My husband had his interview appointment at 7:30 AM on a Monday morning. I flew up to Montreal to be with him for the interview and we love the city so it was a fun little weekend getaway for the both of us. We went to the consulate on Sunday to check out where it is etc. and I was kinda surprised that the entrance was located on a small street that kind looked like an alley way.

On the morning of the interview, it was raining and cold, we arrived around 7:07 AM and there were already 2 people ahead of us. The doors opened promptly at 7:30 AM and by that time there were 5 of us total. The security guard letting us in was very nice and had us line up from the order of arrival, he let two people in at a time. When we got inside we checked in with a lady who looked at our appointment letter and asked if I was the petitioner, she then gave us the laminated sheet of paper with the order they want the documents and then sent us through security. Security was easy, just had to turn in my cell phone and they gave me a ticket to pick it up afterwards. We then walked downstairs and waited until that whole first group we were with were done going through security to go up to the 19th floor. When we got up there we were greeted by another security officer who told us to just take a seat - now it was around 7:50 AM.

My husband who was 3rd in line got called up around 8:15 AM. They called number 4 before they called him who was number 3 which we thought was interesting... but number 4 had 2 people so maybe that was why. The first window they called him up to was to check his documents, this part took much longer than I expected from reading the reviews on here. The lady told my husband their system was slow/down so that could have been why as well. After finishing at that window it was around 8:35 AM - we did not have the correct police check document on hand (we had submitted it but brought the actual police check and not the result of it) so that made the process take a little longer for him, however the lady just said it was fine as they could see it uploaded on CEAC website. We made copies of all documents but they didn't want/need them, they just verified we had them. At around 8:45 AM my husband was called to the interview window. This part was VERY fast.. maybe 5 minutes or so. He said they only asked him a few very simple questions..

1. Who is the petitioner?
2. How did we meet?
3. What is the date of your marriage?
4. What's the longest you have been in the US at one time?

They asked about the police check again, but he mentioned that he only had the one with the actual finger prints on it.. the lady was understanding though and said that it was okay and was understanding that there are so many papers to keep track of. She then said "your visa is approved, welcome to the USA"

We left around 8:50 AM and was back to our Air BNB which was a 12 minute walk around 9:05 AM. Every single person we encountered was very friendly and pleasant. It was overall a great experience and low pressure.
Rating :
Very Good
Timeline Comments: 2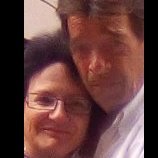 Portorusa on 2019-04-10 said:
Thank you so much for a detailed interview description!

Mteely on 2019-04-16 said:
hi there! do you know why it took so long for the NVC to receive your case (dec), when it was approved in oct? thanks in advance
*Notice about estimates: The estimates are based off averages of other members recent experiences
(documented in their timelines) for the same benefit/petition/application at the same filing location.
Individual results may vary as every case is not always 'average'. Past performance does not necessarily
predict future results. The 'as early as date' may change over time based on current reported processing
times from members. There have historically been cases where a benefit/petition/application processing
briefly slows down or stops and this can not be predicted. Use these dates as reference only and do not
rely on them for planning. As always you should check the
USCIS processing times
to see if your application
is past due.
** Not all cases are transfered

ver 5.0