klgck's US Immigration Timeline
Petitioner's Name: A
Beneficiary's Name: K
VJ Member: klgck
Country: Canada
Last Updated: 2019-12-11
Add Comment to Timeline


Immigration Checklist for A & K:
| | | | | | |
| --- | --- | --- | --- | --- | --- |
| USCIS I-129F Petition: | | | | | |
| Dept of State K1 Visa: | | | | | |
| USCIS I-485 Petition: | | | | | |
| USCIS I-765 Petition: | | | | | |
| USCIS I-131 Petition: | | | | | |
| USCIS I-751 Petition: | | | | | |
| USCIS N-400 Petition: | | | | | |
K1 Visa

Event
Date
Service Center :
California Service Center
Transferred?
No
Consulate :
Montreal, Canada
I-129F Sent :
2019-04-15
I-129F NOA1 :
2019-04-18
I-129F RFE(s) :
RFE Reply(s) :
I-129F NOA2 :
2019-08-02
NVC Received :
2019-08-29
Date Case #, IIN, and BIN assigned :
2019-08-29
NVC Left :
2019-09-17
Consulate Received :
2019-09-19
Packet 3 Received :
2019-09-26
Packet 3 Sent :
2019-09-26
Packet 4 Received :
2019-09-27
Interview Date :
2019-11-27
Interview Result :
Approved
Second Interview
(If Required):
Second Interview Result:
Visa Received :
2019-12-11
US Entry :
2020-01-11
Marriage :
Comments :
Sent I-129F - April 15, 2019
NOA1 - April 18, 2019
NOA2 - August 2, 2019
NVC Received & Case # Assigned - August 29, 2019
NVC Left / "In Transit" - September 17, 2019
Consulate Received - September 19, 2019
CEAC First "Ready" -  September 19, 2019
CEAC Second "Ready" - September 26, 2019
Submitted DS 160 - September 26, 2019
Sent in P3 - September 26, 2019
Received P4 - September 27, 2019
Booked Interview - September 27, 2019
Scheduled Medical - October 2, 2019
Received P3 in Mail - October 7, 2019
Medical Exam - October 31, 2019
Received Medical Exam Results Tracking # - November 5, 2019
Received Medical Exam Results - November 6, 2019
Interview Date - November 27, 2019
Interview - APPROVED!
CEAC Case Updated - November 29, 2019 (App Received)
CEAC Case Updated - December 2, 2019 (App Received)
CEAC Case Updated - December 5, 2019 (Admin Processing)
CEAC Case Updated - December 6, 2019 (Issued!)

Processing
Estimates/Stats :
Your I-129f was approved in 106 days from your NOA1 date.

Your interview took 223 days from your I-129F NOA1 date.
Member Reviews:
Consulate Review: Montreal, Canada
Review Topic: K1 Visa
Event
Description
Review Date :
November 29, 2019
Embassy Review :
Overall a good experience. I arrived at 7:45a for my 8a appointment. There was a very small line of three people including me. I didn't want to go too earlier considering the new consulate didn't want people to line up outside. Someone came out asking what time we had our appointments and let us in based on time of appointment. Picking an 8a was wise as it was not busy at all. I handed the person at the front podium my passport, he put a sticker on it and then handed me the laminated sheet. I took off my jacket, scarf and put them into the bin along with my folders of documents. I also handed in my cellphone and got a key to pick it up at the end.

I headed to the first floor in the elevator as directed. It looked very much like a passport office or Service Ontario kinda place. Very clean and nice. We organized our documents in the order on the list. I organized mine in the wrong order at first as there are two ways and I was frazzled and didn't read the whole sheet. I then reorganized my documents in the 'K Visa' order which made more sense in the end. As I finished organizing my docs I was called to the first window and handed in my documents. She asked who was petitioning for me, who is in relation to me, my address and his address, if we have kids together, and if we have ever been married before. I gave her the documents in the order she asked and she was not in a very good mood so I kept it as concise as possible. She hated my sticky notes, so make sure to take them off before handing your things to her as she will hand them back to you anyway. She took every single financial document I had with me. She specifically requested tax return, W2s, pay stubs and employment contract. I gave her my fiance's bank statements stocks and bonds statements and bank statements, too. After that, I was handed the pamphlet and was told to take a seat and wait to be called by my number. This part was the most stressful for me since the woman was not very happy.

Once I was called to the window to be interviewed, the woman was very nice and welcoming. She asked me:

- How we met
- What site. (She asked this because I said we met online).
- When we met. (I told her when we met online and in person).
- How often we see each other.
- How long was the longest visit and how I was able to stay so long since I said about 4.5 months.
- What he does for a living and where he worked.

Then she said I was approved and would receive my visa in about 2-4 weeks! It was very conversational and I felt very comfortable.
Rating :
Good
Timeline Comments: 2
Muhirwa&flowers on 2019-11-27 said:
Congratulations 🎊🍾🎉🎈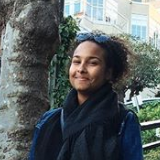 Klgck on 2019-11-27 said:
Thank you!
*Notice about estimates: The estimates are based off averages of other members recent experiences
(documented in their timelines) for the same benefit/petition/application at the same filing location.
Individual results may vary as every case is not always 'average'. Past performance does not necessarily
predict future results. The 'as early as date' may change over time based on current reported processing
times from members. There have historically been cases where a benefit/petition/application processing
briefly slows down or stops and this can not be predicted. Use these dates as reference only and do not
rely on them for planning. As always you should check the
USCIS processing times
to see if your application
is past due.
** Not all cases are transfered

ver 5.0