katkoota's US Immigration Timeline
Immigration Checklist for C & H:
| | | | | | |
| --- | --- | --- | --- | --- | --- |
| USCIS I-130 Petition: | | | | | |
| Dept of State IR-1/CR-1 Visa: | | | | | |
| USCIS I-751 Petition: | | | | | |
| USCIS N-400 Petition: | | | | | |
IR-1/CR-1 Visa

Event
Date
Service Center :
Texas Service Center
Transferred?
No
Consulate :
Egypt
Marriage (if applicable):
2017-12-04
I-130 Sent :
2019-05-24
I-130 NOA1 :
2019-05-31
I-130 RFE :
I-130 RFE Sent :
I-130 Approved :
2019-11-04
NVC Received :
2019-11-15
Received DS-261 / AOS Bill :
2019-12-19
Pay AOS Bill :
2019-12-19
Receive I-864 Package :
Send AOS Package :
2020-01-28
Submit DS-261 :
Receive IV Bill :
2019-12-19
Pay IV Bill :
2019-12-19
Send IV Package :
2020-01-19
Receive Instruction and Interview appointment letter :
Case Completed at NVC :
2020-05-15
NVC Left :
Consulate Received :
2021-06-22
Packet 3 Received :
Packet 3 Sent :
Packet 4 Received :
Interview Date :
2021-07-11
Interview Result :
Approved
Second Interview
(If Required):
Second Interview Result:
Visa Received :
US Entry :
Comments :
received rfe from nvc on 3/5/2020 requesting prior marriage termination document and W-2s. Uploaded on 3/7/2020 and finally got DQ on 5/15/2020.

interview approved 7/11/2021 but still waiting on medical results to receive visa.
Processing
Estimates/Stats :
Your I-130 was approved in 157 days from your NOA1 date.

Your interview took 772 days from your I-130 NOA1 date.
Member Reviews:
Consulate Review: Egypt
Review Topic: IR-1/CR-1 Visa
Event
Description
Review Date :
July 13, 2021
Embassy Review :
Interview went very well for my husband. His appointment was at 7:30am, he arrived around 6 or 6:30am and was second in line. They started letting people in at 8am.
He said the officer was a young man, very friendly nice and only asked him a few questions:
where does your wife live?
what is your wife's job?
when did you get married?
do you have children?
how old is your child?
have you traveled before?
why did you travel?
how long were you out of the country?

After that he said congratulations, or rather "almost congratulations" since my husband's medical results are still pending. He gave him back his passport and a paper that said the embassy needs the results of of his medical exam. He gave him another piece of paper that said his visa has been approved.

My husband was very happy and said it was an easy experience. Once he gets his medical results he will send them back to the embassy with his passport to receive his visa. Apparently there is an issue with the embassy approved hospitals in Egypt, they are updating lab equipment and things have been delayed (my husband was told this by both the consular officer and the hospital itself). All around it was a good experience for him and he is very relieved it is over.
Rating :
Very Good
Timeline Comments: 1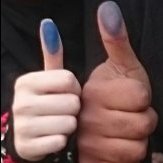 Katkoota on 2020-03-05 said:
NVC requested Petitioner Marriage Termination document on 3/5/2020. Uploaded and resubmitted documents same day.
*Notice about estimates: The estimates are based off averages of other members recent experiences
(documented in their timelines) for the same benefit/petition/application at the same filing location.
Individual results may vary as every case is not always 'average'. Past performance does not necessarily
predict future results. The 'as early as date' may change over time based on current reported processing
times from members. There have historically been cases where a benefit/petition/application processing
briefly slows down or stops and this can not be predicted. Use these dates as reference only and do not
rely on them for planning. As always you should check the
USCIS processing times
to see if your application
is past due.
** Not all cases are transfered

ver 5.0