MelandA's US Immigration Timeline
Immigration Checklist for Mel & Adepa:
| | | | | | |
| --- | --- | --- | --- | --- | --- |
| USCIS I-129F Petition: | | | | | |
| Dept of State K1 Visa: | | | | | |
| USCIS I-485 Petition: | | | | | |
| USCIS I-765 Petition: | | | | | |
| USCIS I-131 Petition: | | | | | |
| USCIS I-751 Petition: | | | | | |
| USCIS N-400 Petition: | | | | | |
K1 Visa

Event
Date
Service Center :
California Service Center
Transferred?
No
Consulate :
Ghana
I-129F Sent :
2017-10-25
I-129F NOA1 :
2017-11-03
I-129F RFE(s) :
RFE Reply(s) :
I-129F NOA2 :
2018-05-17
NVC Received :
2018-06-07
Date Case #, IIN, and BIN assigned :
2018-06-08
NVC Left :
2018-06-26
Consulate Received :
2018-07-11
Packet 3 Received :
Packet 3 Sent :
Packet 4 Received :
Interview Date :
2018-11-30
Interview Result :
Approved
Second Interview
(If Required):
Second Interview Result:
Visa Received :
2018-12-28
US Entry :
2018-12-31
Marriage :
Comments :
First I want to thank God for a successful journey. I would also like to thank all members on this platform for their help. This platform is amazing and I'm happy I found it before embarking on this journey.
Processing
Estimates/Stats :
Your I-129f was approved in 195 days from your NOA1 date.

Your interview took 392 days from your I-129F NOA1 date.
Member Reviews:
Consulate Review: Ghana
Review Topic: General Review
Event
Description
Review Date :
January 1, 2019
Embassy Review :
My fiance's appointment was at 9.30 in the morning. We got to the embassy around 7.30am where they had formed a queue outside. I was there with my fiance but I didn't go inside the embassy(didn't even attempt to). According to my fiance he was called to a window to submit proof of ongoing relationship and had his fingerprints taken. He also was given a form to sign and asked to go back to his seat. After about approximately an hour, he was called again to a other window to begin his interview. He was interviewed by a young woman woman. Questions asked were:
1. Who is petitioning for you?
2. Where will you have your wedding?
3. Who is attending?
4. Asked about a previous student Visa denied. Asked if it was a coincidence that he was attending a school in the same state the petitioner lived.
5. How petitioner met her ex husband.
6. Who is older(between petitioner and the beneficiary).
7. Have you been married before?
8. Why beneficiary chose the school he had intended on attending(this is in regards to his previous student Visa that waa denied).
9. How did you meet your fiancee?
Fiance said although it seemed like she asked a lot of questions but the interview didnt last more than 10 minutes. He was then given spousal right pamphlet to read as many times as he can. After reading she congratulated him and asked to pick up Visa in 10 business( which by the way ending being about 20 business days after the interview).

Fiance said this was the easiest interview he has ever done. Again I want to thank everyone on this platform who shared their experiences. It helped tremendously. Ghana embassy is tough but with the right preparations and lots of prayers, it shall be well. Try to get a good amount of facetime with your fiance/fiancee and work on any red flags you may have and be prepared to answer them at the interview. This process is tedious, financially draining and stressful but it will be all worth when it's all over. I wish everyone embarking on this journey the best of luck.

Rating :
Very Good
Timeline Comments: 1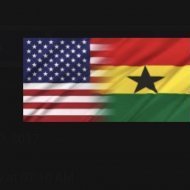 TRUme on 2019-01-01 said:
Congratulations!!!!!!
*Notice about estimates: The estimates are based off averages of other members recent experiences
(documented in their timelines) for the same benefit/petition/application at the same filing location.
Individual results may vary as every case is not always 'average'. Past performance does not necessarily
predict future results. The 'as early as date' may change over time based on current reported processing
times from members. There have historically been cases where a benefit/petition/application processing
briefly slows down or stops and this can not be predicted. Use these dates as reference only and do not
rely on them for planning. As always you should check the
USCIS processing times
to see if your application
is past due.
** Not all cases are transfered

ver 5.0