Jessica Donahue's US Immigration Timeline
Immigration Checklist for Jessica & Elena:
| | | | | | |
| --- | --- | --- | --- | --- | --- |
| USCIS I-129F Petition: | | | | | |
| Dept of State K1 Visa: | | | | | |
| USCIS I-485 Petition: | | | | | |
| USCIS I-765 Petition: | | | | | |
| USCIS I-131 Petition: | | | | | |
| USCIS I-751 Petition: | | | | | |
| USCIS N-400 Petition: | | | | | |
K1 Visa

Event
Date
Service Center :
Texas Service Center
Transferred?
No
Consulate :
Juarez, Mexico
I-129F Sent :
2014-05-02
I-129F NOA1 :
2014-05-13
I-129F RFE(s) :
RFE Reply(s) :
I-129F NOA2 :
2014-06-11
NVC Received :
2014-07-01
Date Case #, IIN, and BIN assigned :
2014-07-01
NVC Left :
2014-07-01
Consulate Received :
2014-07-08
Packet 3 Received :
2014-07-29
Packet 3 Sent :
2014-08-07
Packet 4 Received :
2014-08-29
Interview Date :
2014-09-25
Interview Result :
Approved
Second Interview
(If Required):
Second Interview Result:
Visa Received :
2014-10-10
US Entry :
2015-02-15
Marriage :
2015-02-23
Comments :
POE: On foot at San Ysidro.
Processing
Estimates/Stats :
Your I-129f was approved in 29 days from your NOA1 date.

Your interview took 135 days from your I-129F NOA1 date.
Adjustment of Status

Event
Date
CIS Office :
San Diego CA
Date Filed :
2015-05-30
NOA Date :
2015-06-08
RFE(s) :
2015-12-11
Bio. Appt. :
2015-07-01
AOS Transfer** :
Interview Date :
2015-12-03
Approval / Denial Date :
2016-02-18
Approved :
Yes
Got I551 Stamp :
No
Greencard Received:
2016-02-24
Comments :
RFE for I-693 vaccine supplement. The document was included in the I-485 packet, but they lost it.
Employment Authorization Document

Event
Date
CIS Office :
Chicago National Office
Filing Method :
Mail
Filing Instance :
First
Date Filed :
2015-05-30
NOA Date :
2015-06-08
RFE(s) :
Bio. Appt. :
Approved Date :
2015-08-05
Date Card Received :
2015-08-19
Comments :
Our approval letter came about 2 weeks after the approval message online. The card was sent out 12 days after approval and we received it 2 days later.
Processing
Estimates/Stats :
Your EAD was approved in 67 days.
Advance Parole

Event
Date
CIS Office :
Chicago National Office
Filing Method :
Filing Instance :
First
Date Filed :
2015-05-30
NOA Date :
2015-06-08
RFE(s) :
Date Received :
2015-08-19
Comments :
Our approval letter came about 2 weeks after the approval message online. The card was sent out 12 days after approval and we received it 2 days later. POE with AP at San Ysidro, had to get an I'94 first (no fee) and then crossed without problems.
Processing
Estimates/Stats :
Your AP was approved in 67 days.
Lifting Conditions

Event
Date
CIS Office :
California Service Center
Date Filed :
2018-01-08
NOA Date :
2018-01-10
RFE(s) :
Bio. Appt. :
2018-05-12
Interview Date :
2019-01-22
Approval / Denial Date :
2019-01-22
Approved :
Yes
Got I551 Stamp :
No
Green Card Received :
2019-01-30
Comments :
No biometrics appt. needed.

Received an 18 month extension letter dated 8/11/2018.

No interview, my case status was updated on 1/22/2019 saying that a new card was being produced.

Card sent on 1/25/2019, received on 1/30/2019
Citizenship

Event
Date
Service Center :
Online
CIS Office :
San Diego CA
Date Filed :
2018-12-08
NOA Date :
2018-12-08
Bio. Appt. :
2019-01-04
Interview Date :
2019-06-06
Approved :
Yes
Oath Ceremony :
2019-07-10
Comments :
Member Reviews:
Consulate Review: Juarez, Mexico
Review Topic: General Review
Event
Description
Review Date :
October 11, 2014
Embassy Review :
K1 Visa Review

Documents:
We brought an accordion folder with handles ($10 on amazon) for paperwork and a binder with all the original documents from our K1 packet. It wasn't necessary to bring it to the medical or the ASC appointments, but it was helpful to keep everything organized. Each night we would organize a folder for the next day. Both were very helpful during the interview.

We had trouble figuring out what the NOA3 or "packet" was, it's the letter with a bold heading that says you will need to present it at the interview (you'll also need it for the ASC and the medical appointment). We just brought copies of everything to be safe.

We stopped at the consulate area (not the waiting room) on the main strip, there are guards there during the day and they are very helpful and friendly. Every time we had a question about which document or where to go, we would just stop and ask. Do not talk to the men hanging around the consulate, only consulate officials.



Hotel: Quality Inn
I highly recommend this hotel. I got a great rate booking through Travelocity (I booked in advance to get a good rate and cancelled (free cancellation) as we began changing dates, which helped since you can't make an interview appointment more than 2-3 weeks in advance) and they put us on the 5th floor (which is used more for business than for consular trips), which was perfect and very quiet. I spent a lot of time researching the hotel, and it turns out that even though other hotels are physically closer (IBIS, City Junior, Microtel) the quality inn is the shortest distance walking to the consulate. Its literally about 5 minutes from the 5th floor (elevator included) to the consulate door, maybe 1 block. Add another block and a half to get to the medical clinics. The nice thing about the walks is that they are all on the main strip, no side streets and there is a pharmacy that is open late for water and other necessities, which is almost on the hotel property with a guarded exit in full view for the short walk. The hotel was very secure in general.

The staff was very accommodating, especially Martin and Cecilio (the bell hops) and they have a 24 hr business center that includes free printing. The hotel offers a free shuttle service to the airport, the bus station, and to DHL. Be sure to reserve it early and double-check the hour, but it is very punctual. There is also has a nice outdoor space around the pool.

The room was clean and very comfortable (great beds!) with a little coffee pot, a hair dryer and an iron and ironing board. If you are going to stay for a few days, the layout of the room (a double bed and a sofa) is very nice for having a space to work on documents and eat, and a space to rest. We mostly ordered from the Hotel's restaurant, Diana, who has a very friendly and professional staff. Their food was excellent, handmade pastas and pizzas and good salads, and you get a 10% discount if you show them your room key. It's not the cheapest restaurant, but if you don't plan to eat ramen noodles all week (the hotel has free hot water and coffee available 24 hrs), it's a good choice with a gourmet pizza for two costing just under $10 (it's hard to eat close by for less, even when buying fast food). The continental breakfast has fruit and cereal, which is a nice morning snack (they also serve flavored yogurt, toast, and coffee), but isn't spectacular.

Around the Hotel:
There is a Starbucks in front of the consulate, which is probably the best place to get coffee (when we were there, they were serving coffee from Chiapas, which is great). In the mall there is a Sanborn's, which has decent breakfasts and meals and a small bookstore with magazines.

In the mall:
We found a great tea shop (in front of the Liverpool on the bottom floor), with amazing mint tea (good for calming bedtime nerves) so we bought a little strainer and a bag of loose tea and made it every night in our coffee pot using the hot water from the cafeteria. They also sell amazing handmade chocolates. Little details like this can help to make the whole process feel more humane.

In front of the Cinepolis to the left, also on the bottom floor, there was a great little store with key chains and t-shirts, different types of Juarez memorabilia that we really liked.

Also, we had a translation that needed to be certified at the last minute and I went around to a few places in the outdoor mall next to the consulate with the tent-like roof. A few place tried to take advantage of the situation, the last store on the right-hand side of the first floor there was a place were they were more than decent and very helpful. The name of the place is Tramites Consulares, #3951, and their number is (656) 648-4025, email is tramites.consulares@hotmail.com. They charged $10 to certify a document that they didn't translate (many would refuse to do this to try to get you to pay the translation fee, or like others would try to charge you $100), the translator had to check the document to make sure it was of certifiable quality. When I got back to the hotel (the afternoon before the interview) I realized that my fiance's last names were reversed, so we changed the document and brought it back. They certified it free of charge, only asking for the first certified document, which they destroyed in our presence. This was extremely nice of them and speaks to their work ethic.


Medical: Servicios Medicos de la Frontera, the blue and white building (next to the Clinica Internacional, AKA "Brown Clinic")

I made an appointment through their website, http://www.smf.com.mx. I had read that if you made an appointment for the medical ahead of time, they let you go in ahead of everyone else in the morning. However, we decided to arrive 15 minutes before the 8 AM appointment (as stated on their website), and she was able to just walk in, no lines, on a Tuesday. I waited in the waiting room, which was enclosed with a café and air conditioning, and read a magazine. The whole process took about 2 hours. The women she entered with took about an hour, but my fiancé had experimented with drugs about 10 years ago, so they made her give a urine sample (while someone watched her) and to talk to a psychologist. She said that the staff were really friendly, but that the doctor was pretty antagonistic and even made fun of her tattoos. We were really worried about this part because the Juarez Consulate has been known to be a lot harsher than the current consular policy. The psychologist asked her what her childhood was like and why she chose to try drugs.

They staple a disc to your black packet (do not open the black packet), you should separate them and keep the disc (it's a copy of your chest x-rays). The consulate won't allow you to enter with the disc.

Just a side note, the Clinica International looks a bit nicer and also has other medical practices besides the visa appointments (which I think is a good sign). We went to SMF because the other clinic's site wouldn't let me make an appointment through the website (though it does offer the option).

Also, we noticed that the label on her medical had a red vertical line made with a marker to the left of her information. We worried about this up until the interview. I still don't know what it means, but we were approved….so if you see that keep your spirits up.

ASC:

This is located in the consulate's plaza, towards the back next to an Oxxo (the Oxxo has unsweetened coconut water, which helps if your stomach is unsettled from nerves or traveling…Alcapulcoco). We were watching the ASC (biometrics) sign, and they seemed to let people in about 20 minutes early. We went 10 minutes before her appointment and everyone had already gone inside. The appointment took about 15 minutes total.


Interview: Thursday

I dropped her off at 6:45 and she was opening the hotel door at 9:30, so the whole process took just under 3 hours. We were really worried about being a same-sex couple, but the interviewer was excited that she got to approve her first same-sex K1 visa! The interviewer asked about her tattoos, when and how we met (in-depth description), about her meeting my family, why we wanted to marry in the states and not Mexico, where we planned to live, what she does for a living, what I do for a living. All of the questions were found on these sites:

http://www.visajourney.com/content/exampleq
http://www.visajourney.com/forums/topic/440805-k1-visa-interview-questions/
http://www.nolo.com/legal-encyclopedia/k-1-fiance-visa-interview-questions.html

We practiced in English, and tried to think of answers for each question that were concise, positive, full of "we" and "our" so that she wouldn't be caught off-guard. We tried to craft answers that would give a lot of information, but that would be simple in their delivery because consular representatives tend to have little patience for wandering thoughts or long explanations. She said this helped a lot. The interviewer asked if they could do the interview in English, and she was patient with my fiancé's English. My fiancé mentioned that she had to offer extra paperwork, like my birth certificate, the police certificates and other proof, during the interview. The interviewer did not ask for them, but took them willingly.

Ciudad Juarez:

I know that there is a lot of concern about Juarez, given its recent history. However, it is historically a very important city and has some nice things to do if you want to get out of your hotel (which is a nice way to remember that there is a world outside of immigration processes and to feel some fresh energy). To see the city, you can take a green bus (oriente-poniente) toward Ribeño for 6 pesos (about 50 cents) to Blvd Juarez (the old tourist strip). The bus will drop you off about a block from the border crossing bridge. We went downtown to the art museum (http://www.museodeartejuarez.bellasartes.gob.mx/), which has great exhibits. To get there, take the green Ribeño bus to Paseo Triunfo, don't cross the street, (walk towards the bus stop if dropped off before it) and then grab the 16 de Septiembre bus (there are many). Ask to get off at the Fiesta Inn, the art museum is about a block and a half behind the Fiesta Inn, and you can spot it while walking. Though small, the building is a great example of Mexican modernist architecture, and it has a nice layout for exhibits. We saw an exhibit of Goya's prints, which was amazing. Afterwards, we walked back to the Fiesta Inn and got back on the 16th de Septiembre line in the same direction, which takes you to downtown. We continued (walking) about 2 blocks down a pedestrian street in the same direction to Blvd Juarez and took a right. About 3 blocks down on the left is Martino (big yellow sign with neon typography) (https://www.facebook.com/pages/Martino-Ciudad-Juarez/503340429694394) , one of the oldest restaurants in the city. It's Italian/French/Basque and a beautiful eclectic space. The food was excellent (especially the scampi) and the waiters were very friendly. Ciudad Juarez is the most likely place where the burrito was invented, so even if you don't want a sit down dinner, you won't find a better burrito anywhere else.

In general, my experience riding around the city was very positive (we were two women traveling alone), people were friendly and happy to try to communicate, even if they didn't speak English. It is not the festive city of the past, but it still has a lot to offer. We were able to take the green bus back to the hotel before dusk, but if not, we would have taken the 16 de septiembre back to the Fiesta Inn and called a cab from there (I wouldn't trust a taxi from the street, just to be sure). While friendly during the day, the city does change dramatically as daylight dims.

We weren't able to get out more than once, but there is an anthropology museum in the Chamizal park, and the Customs museum, Historical museum and Juan Gabriel's (famous singer) house are all downtown in walking distance.




Rating :
Very Good
Timeline Comments: 2

Parsi2017 on 2019-02-02 said:
Hello and congratulations on successfully arriving to the end of this process. I am still waiting. Would you be kindly share when did you receive interview letter, if the letter asked you to go alone or with spouse? what questions were asked from you during i-751 interview? Did they tell you after interview if you are approved or not? THANK YOU very much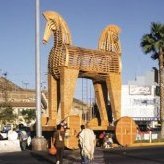 Jessica Donahue on 2019-05-08 said:
@Parsi2017 My wife didn't have an interview, her status was changed in her account and then they sent out the card. If you have an interview, I suggest going with your spouse just in case. It is always better to reinforce the validity of your relationship with the two of you together. Best of luck to you!
*Notice about estimates: The estimates are based off averages of other members recent experiences
(documented in their timelines) for the same benefit/petition/application at the same filing location.
Individual results may vary as every case is not always 'average'. Past performance does not necessarily
predict future results. The 'as early as date' may change over time based on current reported processing
times from members. There have historically been cases where a benefit/petition/application processing
briefly slows down or stops and this can not be predicted. Use these dates as reference only and do not
rely on them for planning. As always you should check the
USCIS processing times
to see if your application
is past due.
** Not all cases are transfered

ver 5.0