SrilankanstoUS's US Immigration Timeline
Petitioner's Name: U
Beneficiary's Name: L
VJ Member: SrilankanstoUS
Country: Sri Lanka
Last Updated: 2020-12-22
Add Comment to Timeline


Immigration Checklist for U & L:
| | | | | | |
| --- | --- | --- | --- | --- | --- |
| USCIS DCF I-130 Petition: | | | | | |
| Dept of State IR-1/CR-1 Visa: | | | | | |
| USCIS I-751 Petition: | | | | | |
| USCIS N-400 Petition: | | | | | |
IR-1/CR-1 Visa

Event
Date
Service Center :
Potomac Service Center
Transferred?
No
Consulate :
Sri Lanka
Marriage (if applicable):
2019-03-04
I-130 Sent :
2019-08-20
I-130 NOA1 :
2019-08-23
I-130 RFE :
I-130 RFE Sent :
I-130 Approved :
2020-04-17
NVC Received :
2020-04-18
Received DS-261 / AOS Bill :
2020-04-19
Pay AOS Bill :
2020-04-25
Receive I-864 Package :
Send AOS Package :
2020-06-28
Submit DS-261 :
Receive IV Bill :
2020-04-19
Pay IV Bill :
2020-04-25
Send IV Package :
2020-06-28
Receive Instruction and Interview appointment letter :
Case Completed at NVC :
NVC Left :
Consulate Received :
2020-08-14
Packet 3 Received :
Packet 3 Sent :
Packet 4 Received :
Interview Date :
2020-09-10
Interview Result :
Approved
Second Interview
(If Required):
Second Interview Result:
Visa Received :
2020-12-14
US Entry :
2020-12-20
Comments :
After the interview on 10th September 2020 I was requested to submit additional documents (relationship evidence & i-864 + Joint Sponsor's i864). Submitted the same day.
CEAC status changed to "Refused"
Last case updated 17/Sep/2020
01/Oct/2020
05/Oct/2020 Requested a new joint sponsor as the submitted joint sponsor was unemployed
15/Oct/2020 submitted a new joint sponsor and received an email regarding their acceptance
27/Oct/2020
19/Nov/2020
24/Nov/2020
30/Nov/2020 Status changed to "Administrative Processing"
03/Dec/2020 status changed to "Issued"
Processing
Estimates/Stats :
Your I-130 was approved in 238 days from your NOA1 date.

Your interview took 384 days from your I-130 NOA1 date.
Port of Entry Review

Event
Date
Port of Entry :
Washington DC
POE Date :
2020-12-20
Got EAD Stamp :
Biometrics Taken :
No
Harassment Level :
0
Comments :
Very welcoming. Never expected CBP officers to be that nice to immigrants.
Member Reviews:
Consulate Review: Sri Lanka
Review Topic: IR-1/CR-1 Visa
Event
Description
Review Date :
December 1, 2020
Embassy Review :
There were only 3 people in the queue including me. They wouldn't let me get inside until it's 8.45am. although the interview was supposed to be at 9.00am I had to sit there until 10.30. Once my name was called I was directed to a small room-like partitioned area. The questions were very straight forward How we met, how old is your spouse, where did you spouse live before moving to US, where does your spouse's parents live, how many people were there at your wedding, He did not like describing the answers, just straight forward ones just like his questions. After the interview he gave me a 221g form requesting additional documents (I-864s, Evidence of relationship) submitted them the same day.
Rating :
Good
POE Review: Washington DC

Event
Description
Entry Date :
2020-12-20
Embassy Review :
I used the Dulles Washington to enter the country and I have never been this surprised about how they treat immigrants. Once the flight is landed, I was directed to the CBP and when my turn comes up the officer was so happy to a Sri Lankan passport. He said "oh are you from Sri Lanka? I've been to Sri Lanka many times but never seen their passport, this is my first seen a Sri Lankan passport" the officer only asked if I brought any fish, chicken, or pork and when I said none, he said "okay you're good to go, have a nice day" and directed to another officer who walked me to a door and asked me to follow the end of the red line on the floor once I entered. At the end there was another officer, he asked me to hand the passport and wait until your name is called. Since the pandemic there were only 2 passengers waiting except for me. Within minutes my name was called and he asked the same questions the previous officer asked. And was told to confirm the final address in the USA. Once it's done he stamped my passport with "Admitted Cr1" and the date. And he gave me a blue slip and asked me to produce that to the officer in the Exit. That's all it took to come through the CBP. I feel so lucky 🍀
Harassment Level :
Low
Timeline Comments: 2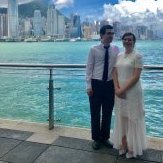 IsItLekker on 2020-08-14 said:
Congratulations on receiving an interview date! Did you expedite?
SrilankanstoUS on 2020-10-01 said:
Thanks! We did not. Everything happened as it is.
*Notice about estimates: The estimates are based off averages of other members recent experiences
(documented in their timelines) for the same benefit/petition/application at the same filing location.
Individual results may vary as every case is not always 'average'. Past performance does not necessarily
predict future results. The 'as early as date' may change over time based on current reported processing
times from members. There have historically been cases where a benefit/petition/application processing
briefly slows down or stops and this can not be predicted. Use these dates as reference only and do not
rely on them for planning. As always you should check the
USCIS processing times
to see if your application
is past due.
** Not all cases are transfered

ver 5.0