SallySaidHi's US Immigration Timeline
Immigration Checklist for Sally & Mohamed:
| | | | | | |
| --- | --- | --- | --- | --- | --- |
| USCIS DCF I-130 Petition: | | | | | |
| Dept of State IR-1/CR-1 Visa: | | | | | |
| USCIS I-751 Petition: | | | | | |
| USCIS N-400 Petition: | | | | | |
IR-1/CR-1 Visa

Event
Date
Service Center :
Nebraska Service Center
Transferred?
No
Consulate :
United Arab Emirates
Marriage (if applicable):
2014-04-27
I-130 Sent :
2019-06-09
I-130 NOA1 :
2019-06-15
I-130 RFE :
I-130 RFE Sent :
I-130 Approved :
2019-09-19
NVC Received :
2019-10-25
Received DS-261 / AOS Bill :
2019-10-30
Pay AOS Bill :
2019-10-30
Receive I-864 Package :
Send AOS Package :
2019-10-30
Submit DS-261 :
2019-10-30
Receive IV Bill :
2019-10-30
Pay IV Bill :
2019-10-30
Send IV Package :
2019-10-30
Receive Instruction and Interview appointment letter :
Case Completed at NVC :
NVC Left :
2019-12-29
Consulate Received :
Packet 3 Received :
2020-01-15
Packet 3 Sent :
Packet 4 Received :
Interview Date :
2020-04-01 Submit Review
Interview Result :
Second Interview
(If Required):
2020-06-29
Second Interview Result:
Approved
Visa Received :
2020-07-28
US Entry :
Comments :
We also filed the I-129F form in July of 2019, which sped up the process for the I-130 process (which worked well for us!)

We also filed for an expedite, after NVC approved our docs. In our case, this slowed things down for us as we had to schedule our own interview online (which took 5 weeks just to book a date that was approx. 2 months later). Other cases in Abu Dhabi, did not expedite, and got their interview date appointed to them quickly, by the embassy!

Our initial interview was scheduled for April 1st but was cancelled due to Covid-19. They finally reopened scheduling for previously cancelled appointments and we booked for June 29. They refused his visa and asked for additional domicile documents. We submitted those document the next day and then more the following week. They got back to us 2 weeks after we submitted the first set of docs (and emailed them as per their instructions). They told us that they can now proceed with his application and instructed him to send his passport to them via EMPOST (on Wednesday the 15th of July) The embassy received his passport on Monday the 20th of July . It is now July 22nd and we are waiting to receive his passport back, with the visa. His status (after interview) went from refused, to ready, to administrative processing (for a few hours) to issued.

P.S. They are currently only working 2 days a week at the Abu Dhabi US Embassy (as of July 22, 2020).
Processing
Estimates/Stats :
Your I-130 was approved in 96 days from your NOA1 date.

Your interview took 291 days from your I-130 NOA1 date.
Member Reviews: None Found
To enter a review please select one of the following:
--o
Consulate Reviews
--o
US Port of Entry Reviews
--o
US CIS Local Office Reviews
Timeline Comments: 1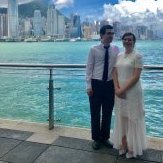 IsItLekker on 2020-08-29 said:
Congratulations on receiving your visa! :D
*Notice about estimates: The estimates are based off averages of other members recent experiences
(documented in their timelines) for the same benefit/petition/application at the same filing location.
Individual results may vary as every case is not always 'average'. Past performance does not necessarily
predict future results. The 'as early as date' may change over time based on current reported processing
times from members. There have historically been cases where a benefit/petition/application processing
briefly slows down or stops and this can not be predicted. Use these dates as reference only and do not
rely on them for planning. As always you should check the
USCIS processing times
to see if your application
is past due.
** Not all cases are transfered

ver 5.0