avol93's US Immigration Timeline
Petitioner's Name: Samantha
Beneficiary's Name: Amy
VJ Member: avol93
Country: United Kingdom
Last Updated: 2018-10-12
Add Comment to Timeline


Immigration Checklist for Samantha & Amy:
| | | | | | |
| --- | --- | --- | --- | --- | --- |
| USCIS I-129F Petition: | | | | | |
| Dept of State K1 Visa: | | | | | |
| USCIS I-485 Petition: | | | | | |
| USCIS I-765 Petition: | | | | | |
| USCIS I-131 Petition: | | | | | |
| USCIS I-751 Petition: | | | | | |
| USCIS N-400 Petition: | | | | | |
K1 Visa

Event
Date
Service Center :
California Service Center
Transferred?
No
Consulate :
London, United Kingdom
I-129F Sent :
2018-02-02
I-129F NOA1 :
2018-02-09
I-129F RFE(s) :
RFE Reply(s) :
I-129F NOA2 :
2018-08-22
NVC Received :
2018-09-06
Date Case #, IIN, and BIN assigned :
2018-09-07
NVC Left :
2018-09-18
Consulate Received :
Packet 3 Received :
Packet 3 Sent :
Packet 4 Received :
Interview Date :
2018-10-12
Interview Result :
Approved
Second Interview
(If Required):
Second Interview Result:
Visa Received :
US Entry :
Marriage :
Comments :
Medical Date: 2018-09-27
Processing
Estimates/Stats :
Your I-129f was approved in 194 days from your NOA1 date.

Your interview took 245 days from your I-129F NOA1 date.
Member Reviews:
Consulate Review: London, United Kingdom
Review Topic: K1 Visa
Event
Description
Review Date :
October 12, 2018
Embassy Review :
Easy, breezy, beautiful!!

My appointment was scheduled for 10.30Am, got there at 10.15 because of delays on the tube line I was intending to use and also getting lost amongst the insane amount of construction in the area!! (I had no access to google maps at the time but I highly recommend using it!! 😅)

My dad had travelled with me so we asked at the first desk if he could come in with me, they double checked and it was fine!! The lady at this desk asked me for a DS-260 which had me panicked but then I gave her my 160 and passport and she said that's what she meant, they're not super up to date with the visa process out there.

Through the airport style security then up to a second desk, asked for my DS160 again but not my appointment letter (heard others being asked for it). Received a sticker and Told to go upstairs to level one then left and left again. There were three pairs of ya given the same directions and when you get to the first floor the "left again" isn't the clearest, it's around a small corner and suddenly there's more interview desks but your number comes up on all the screens on that floor anyway.

Was called up within 10 mins of sitting, asked for passport, ds160, ACRO, passport photo (only one) and and affidavit I had. My guy asked for tax returns and I gave him everything I had and he ended up taking her letter of employment and I think one tax return. I also let him know I had a co sponsor available because last tax year she didn't earn enough but this year she would - he said we won't need it. He double checked I wasn't adopted/hadn't lived anywhere else and we had a small chat because he was from Missouri which is where I'm heading!! So that was nice 😁 also got my X-ray cd back and did my fingerprints

Sat back down for about 10 mins and then back up, a different desk and lady, to swear I was telling the truth, checked my fingerprints had worked asked how we met, when and did we visit each other....the approved!!!

I must have looked like I was about to ball because the lady asked if I was okay and I was like ??? IS THAT IT??? She said yes and I literally skipped away (to a few confused looks lol) 🤗

The easiest part of this wholeeee thing. Really. Just breathe.
Rating :
Very Good
Timeline Comments: 2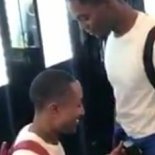 Jeffreyyu on 2018-10-15 said:
Wow.....wonderful embassy experience.... Congratulations!!!

Worriedmum on 2018-10-16 said:
Has anyone been denied a K1 Visa because they had been denied a 6 month travel visa in the past?
*Notice about estimates: The estimates are based off averages of other members recent experiences
(documented in their timelines) for the same benefit/petition/application at the same filing location.
Individual results may vary as every case is not always 'average'. Past performance does not necessarily
predict future results. The 'as early as date' may change over time based on current reported processing
times from members. There have historically been cases where a benefit/petition/application processing
briefly slows down or stops and this can not be predicted. Use these dates as reference only and do not
rely on them for planning. As always you should check the
USCIS processing times
to see if your application
is past due.
** Not all cases are transfered

ver 5.0