Eric-Pris's US Immigration Timeline
Immigration Checklist for Eric & Priscilla:
| | | | | | |
| --- | --- | --- | --- | --- | --- |
| USCIS I-129F Petition: | | | | | |
| Dept of State K1 Visa: | | | | | |
| USCIS I-485 Petition: | | | | | |
| USCIS I-765 Petition: | | | | | |
| USCIS I-131 Petition: | | | | | |
| USCIS I-751 Petition: | | | | | |
| USCIS N-400 Petition: | | | | | |
K1 Visa

Event
Date
Service Center :
Vermont Service Center
Transferred?
No
Consulate :
Costa Rica
I-129F Sent :
2008-01-12
I-129F NOA1 :
2008-01-18
I-129F RFE(s) :
RFE Reply(s) :
I-129F NOA2 :
2008-02-27
NVC Received :
2008-03-06
Date Case #, IIN, and BIN assigned :
NVC Left :
2008-03-10
Consulate Received :
2008-03-12
Packet 3 Received :
2008-03-18
Packet 3 Sent :
2008-04-04
Packet 4 Received :
Interview Date :
2008-04-04
Interview Result :
Second Interview
(If Required):
Second Interview Result:
Visa Received :
2008-04-09
US Entry :
2008-05-19
Marriage :
2008-05-23
Comments :
In CR, they usually call the beneficiary to come pick up packet 3 from the embassy. The mail system there is very bad, so they try to use it as little as possible. You don't send back packet 3, you bring everything to the interview, that's why we have no Packet 3 return date. And there is no packet 4, when you have everything from Packet 3 ready, you call to schedule your interview. They will give you a list of dates available and you can pick what suits you best. The wait is 1-2 weeks, not long at all.
Processing
Estimates/Stats :
Your I-129f was approved in 40 days from your NOA1 date.

Your interview took 77 days from your I-129F NOA1 date.
Port of Entry Review

Event
Date
Port of Entry :
JFK
POE Date :
2008-05-20
Got EAD Stamp :
Yes,Passport Stamp
Biometrics Taken :
Yes
Harassment Level :
0
Comments :
No harrasment, but the wait at secondary processing was about 90 minutes.
Adjustment of Status

Event
Date
CIS Office :
New York City NY
Date Filed :
2008-07-23
NOA Date :
2008-07-29
RFE(s) :
Bio. Appt. :
2008-08-20
AOS Transfer** :
2008-08-19
Interview Date :
Approval / Denial Date :
2008-12-10
Approved :
Yes
Got I551 Stamp :
Greencard Received:
2008-12-18
Comments :
Employment Authorization Document

Event
Date
CIS Office :
Chicago National Office
Filing Method :
Mail
Filing Instance :
First
Date Filed :
2008-07-23
NOA Date :
2008-07-29
RFE(s) :
Bio. Appt. :
2008-08-20
Approved Date :
2008-09-30
Date Card Received :
2008-10-09
Comments :
Processing
Estimates/Stats :
Your EAD was approved in 69 days.
Advance Parole

Event
Date
CIS Office :
Chicago National Office
Filing Method :
Filing Instance :
First
Date Filed :
2008-07-23
NOA Date :
2008-07-29
RFE(s) :
Date Received :
2008-10-06
Comments :
Processing
Estimates/Stats :
Your AP was approved in 69 days.
Lifting Conditions

Event
Date
CIS Office :
Vermont Service Center
Date Filed :
2010-09-24
NOA Date :
2010-09-28
RFE(s) :
Bio. Appt. :
2010-11-17
Interview Date :
Approval / Denial Date :
2011-02-07
Approved :
Yes
Got I551 Stamp :
No
Green Card Received :
2011-02-09
Comments :
Citizenship

Event
Date
Service Center :
Lewisville TX Lockbox
CIS Office :
New York City NY
Date Filed :
2012-09-15
NOA Date :
2012-09-21
Bio. Appt. :
2012-12-31
Interview Date :
2013-03-04
Approved :
Yes
Oath Ceremony :
2013-03-12
Comments :
The interview was pretty easy in Long Island City, NY. Took about 20 minutes total.
Member Reviews:
Consulate Review: Costa Rica
Review Topic: K1 Visa
Event
Description
Review Date :
April 9, 2008
Embassy Review :
My fiancee's interview was Friday, Apr 4th. They say arrive between 12-1:30pm. I flew down April 3rd to be there with her. I didn't need to but I know she gets nervous so I wanted be there for her. She was a nervous wreck, even though I tried to convince her it'll be a piece of cake.

We got there at 12:50. We walked in past security and went directly to the ticketing machine and got a "G" ticket for immigrant visa. Our number was 703. So we went inside and they were calling 701. Nice! So we were called up within about 5 minutes. This is to the pre-screener who takes all your forms and documents (not evidence of relationship-you keep it till the interview). She had a list of all that was required and was checking it off as we were handing her our forms/docs. She was surprised that we had it ALL. She also asked my fiancee to fill out some form with my first and last name. Then she asked us how we met. She was really nice and smiled a lot which relaxed my girlfriend a little. Then she asked us to sit down until our names are called. By the time we were called up all the tourist applicants had cleared out and just about all the immigrant applicants too, we were almost last.

We waited about 90 minutes in between the pre-screener and the interview. While waiting, we did hear one couple being lectured about her not knowing his last name. Then we heard her name over the PA and walked up to the window. The consular officer was an American who spoke Spanish well. He asked if we prefer English or Spanish. Since my fiancee speaks little English, we said Spanish. First, he asked her to raise her right hand and take the oath that she tell the truth or face serious consequences for lying to a government official. Then he fingerprinted her using the digital scanner a each window.

He was very pleasant and not intimidating. Then he asked us how we met. So we told him a short answer, like people suggest to keep it short. We told him the name of the discoteque/bar we met at. He then asked a follow-up about how we met. So we told him, I talked to her first and then we spent a couple hours talking, dancing, and drinking. Then we went out on a date and went away to the beach for a couple of nights together and the rest is history. He also asked her if she was married before. And a question if she was married to her kids' father.

Then he asked me to sit down so he can speak with her. He asked her about my job (title, industry, location), whether I met her parents, and if she knows the city I live in. He asked her to call me back and go sit down.

In English, he asked me the same questions about my job (to see if we matched). He told me I was a better man than him for already doing my 2007 tax return, because he hadn't yet. (he laughed). Then he said "Thank you, you may sit with your fiancee while I look your documentation and I'll call you back in a few minutes". I asked if he would like to see our pictures, boarding passes, and emails. He said "It's not necessary. It's clear that you guys have a strong relationship."

In less than 5 minutes he called us back. He says everything looks good except ONE thing. We're thinking OH OH! But he says, we have to wait for the digital fingerprint results, but I will approve your visa today. You can pick it up Tuesday after 3pm, unless something extraordinary comes back on your prints.

We left at 3pm. (Total time there 2:10). As we left the sky opened up and we got soaked like wet dogs (no umbrella) but we did not care one bit. You couldn't pry the giddy smile off my fiancee's face with a crow bar. It felt good, a big relief.

I came back home early Tuesday morning. She picked up the visa today at 3pm. She emailed me a copy which I posted in a separate thread.

Overall, everybody was very nice. No mean people at all. The questions were easy and they didn't even want to see any evidence, other than than the required forms and documents.

If anybody has any questions about the CR embassy, PM me.
Rating :
Good
POE Review: JFK

Event
Description
Entry Date :
2008-05-19
Embassy Review :
I flew over to Costa Rica to pick up my fiancee and we came back together on May 19th through JFK. We landed at 2:15am (May 20th). When we got to immigration hall, the Citizens line was about 30-40 long and the Visitors line was less than 10. So we both went to the Visitors line. When we got to the officer, I gave him my US passport and Customs form, and told him that this is my fiancee and she's coming on a K-1 visa. She handed him her passport and the large sealed envelope. He opened it up, looked through some of the paperwork, and entered some data into the computer. I don't know if he was new or hadn't processed many K-1's but he kept looking through a small rolodex which I could tell were instructions on the codes to input in the system.

We were done with him in less than 5 minutes. He didn't ask me or her a single question and told us we needed to go to another room (secondary processing). He gave us all the paperwork in a colored folder and pointed us to the room all the way on the left. There's an officer who stands outside that room and takes your folder, tells you to drop your carry-on against the wall, and follow him into the room. He places the folder in a queue and tells you to sit until you're called.

It was 2:40am when we got to secondary. There probably 6 folders ahead of ours but we didn't get out of there until just after 4am. There were about 5 officers but 3-4 of them were working on 2 cases, a fake passport guy, and a guy who was arrested for cocaine possession and tried to change his fingerprints. The fake passport guy was sent back on the next flight out, the cocaine guy had his bags searched and was released.

When they got to our folder, they didn't call us up, and just they processed her, and then stapled her I-94 into her passport, and stamped the temp EAD. Then he called her up and just handed her the passport and didn't ask or say anything. I asked if she got her temporary EAD, and he (kind of rudely) said "she got all that she's supposed to get". I looked on the back of her I-94 and it says "EMPLOYMENT AUTHORIZED ____(date)____"

So we left. I would rate the whole experience a 0, but I gave it a 1 because of the 90 minute wait.
Harassment Level :
Low
Timeline Comments: 1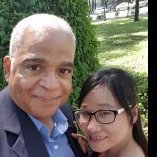 Wxman22 on 2019-01-15 said:
I know this is from 10 years ago, but thank you for taking the time to give such descriptive detail. It's helpful to know what exactly happened.
*Notice about estimates: The estimates are based off averages of other members recent experiences
(documented in their timelines) for the same benefit/petition/application at the same filing location.
Individual results may vary as every case is not always 'average'. Past performance does not necessarily
predict future results. The 'as early as date' may change over time based on current reported processing
times from members. There have historically been cases where a benefit/petition/application processing
briefly slows down or stops and this can not be predicted. Use these dates as reference only and do not
rely on them for planning. As always you should check the
USCIS processing times
to see if your application
is past due.
** Not all cases are transfered

ver 5.0