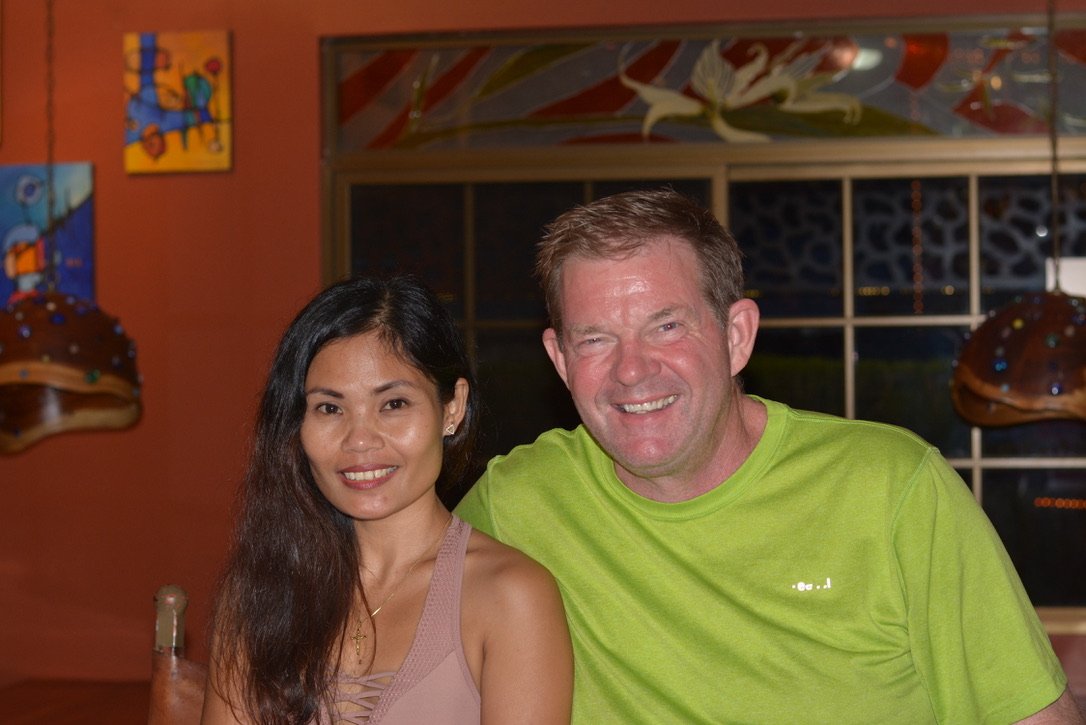 Content Count

14

Joined

Last visited
About JoSteph
Rank

Junior Member

Member #

314446
Immigration Timeline & Photos
Recent Profile Visitors
The recent visitors block is disabled and is not being shown to other users.
That is almost word for word, what the attorney I spoke with today, said. Thank you. I do believe we have ample evidence of a legitimate relationship. I do understand that USCIS is doing their job and seeing the red flag of divided loyalties on my fiancee's part. I didn't think that a ceremony in the Philippines which was non-official would be a red-flag, but appreciate your insight. It won't be mentioned and we won't plan on that. The only other thing we have already done is spend countless hours on Viber, looking at photos of wedding dresses, her sharing them with me. But with all the trips 8 weeks of time together after her breakup with her ex, plus the significant financial support I can show, sent via Remitly, plus thousands of chat messages between us since April of last year, should be ample evidence of a serious relationship. She left the other guy because it wasn't working out, she decided that in June of last year. The tourist Visa she applied for was legitimate. She had an invitation from the Pageant Director of the "Miss Filipina International Pageant" in Los Angeles to come as her guest. My fiancee was heavily involved in the pageant scene in Singapore, holding my titles and crowns. She had hopes of developing a career that would free her from the life she was living as a DW. We thought the tourist Visa was a good idea if she was approved. She owns a nice house in Iloilo, has and had money in the bank at the time of the application and had meaningful employment. These were the things we thought would make it easier for her to visit me in the US and I thought it was a chance to steal her heart so to speak as I knew she was frustrated with her current relationship. He kept her waiting to marry him for over 6 years and then at a party in May of 2018, told mutual friends in front of her that he saw no reason to get married since they were already living together. Hopefully the evidence will demonstrate our bona fides. But plan B would be to marry and reapply, just as you and the attorney said might have to be the way. Grrrrr.

We applied in March and received the following RFE: Two items on the RFE are simple document fixes, but the third is giving me a little bit of concern. The RFE included the following: "COUPLES BONA FIDE INTENT TO MARRY - As evidence of the beneficiary's intent to marry you within 90 days of her arrival in the Unites States, you submitted a statement from the beneficiary. However, beneficiary's statement is insufficient to establish her intent to marry you. On May 28, 2018, the beneficiary applied for a B1/B2 non-immigrant visa. She indicated that she was a domestic helper for ___________ in Singapore. During the beneficiary's interview with the consular officer on June 6, 2018, the beneficiary stated the her employer, ___________, is her fiancee and had been working for Mr. ________ for six years. The record also shows that the beneficiary lived in Singapore from January 1, 2003 to July 5, 2018 and worked for ___________________ from January 1, 2013 to July 4, 2018. You stated in the petition that you met the beneficiary in April 2018 in the Philippines, traveled with the beneficiary to Costa Rica in August 2018 for three weeks, then traveled back to the Philippines in December 2018 to be with the beneficiary again. Although you stated you were with the beneficiary in April, 2019, her application for a B1/B2 non-immigrant visa indicated that she was engaged to be married to ________________. As such, submit additional evidence to show that you and the beneficiary have a bona fide intent to marry. Evidence of a bona fide intent may be, but is not limited to: 1. Further details on how you and the beneficiary first met and made the decision to become engaged. (We met in April as I was on vacation in the Philippines and she was too, we both have our passport stamps and copies of our tickets as well as my receipts from the hotels I stayed in while I was there. There was no romance and our proof of that is our chat records where we had lengthy discussions about affection and the importance or non importance of it in a relationship. I expressed concern on a number of occasions because she had been so cautious when we spent time together in Philippines. No touching at all, so I was concerned that she might not enjoy being touched. She was reserved because she was living with and working for her boyfriend and she wasn't sure she was ready to consider leaving him although the relationship had soured to the point of sleeping in separate beds and living as domestic helper and boss. Further, she had no plans of leaving him when we met. She liked me, I liked her and that was it for about 4 months. 2. Evidence of correspondence between you and the beneficiary. (We have thousands of messages back and forth between us over the past year and a half.) 3. Plans for the wedding and reception that you and the beneficiary have considered (We have made lots of wedding plans as we are planning to have a non-official beach ceremony in the Philippines so her family and friends can attend) 4. Evidence of financial support. (I have all of my receipts from Remitly where I have supported her and her 2 sons since she went home in July of last year.) 5. Subsequent trips to visit the beneficiary. (After our first meeting, we flew to Costa Rica and spent 3 weeks together there, lots of photos and receipts, I flew back to Phil in December of 2018 and spent nearly 3 weeks with her and her family, I flew back again in June of this year and spent 2 more weeks with her) 6. Any other evidence that can show that you and the beneficiary have a bona fide intent to marry." Any thoughts that could help us navigate this RFE question?

Zaczon

reacted to a post in a topic:

Waiver Request - Multiple Filer

Thank you - I thought my timeline helped legitimize my request for waiver - Filed first time in 2004 - married 2005 in US - divorced in 2010 -- filed in 2012 - over 2 years after divorce - the second time - we were married for 5 years as well -- divorcing in 2017 - Filing now and hope to get married in late 2019 -- From first filing to this one is 15 years - My past experience has taught me that USCIS is made up of good people, doing their jobs to the best of their abilities. One of their biggest stated tasks is to find human traffickers, drug smugglers and convicted felons who hurt women. Based on the other responses from those seeking to offer insight on the subject, USCIS is not going to judge my failed marriages, just judge whether I married in good faith. I think that will be the focus of their scrutiny. I really appreciate your feedback, do you still think the timeline will be an issue? and if so, why? I need to hear good thoughts on the subject to prepare.

Yes you are right, you have the right to say anything within guidelines that you wish to say here. But before you say anything, ask yourself, "is this going to help the person in question?" - If you can't answer yes to that question, you might want to check your motives for weighing in at all on the topic. I am done with this topic though, I got some good advice from others here.

usmsbow

reacted to a post in a topic:

Waiver Request - Multiple Filer

Lemonslice

reacted to a post in a topic:

Waiver Request - Multiple Filer

No where in my question did I ask for relationship advice. I don't want to pick a fight with a senior member, but this forum is intended to help people in their "visaJourney". There are definitely times when asking someone such a loaded question is justified, but honestly, wisdom would dictate that a question like that is best done in private. If you or anyone here has advice on my question, I will accept it with an open mind, but you crossed a line.

My marriages each lasted about 5 years. The first was a true party girl and I'm a steady freddy - not for partying - when she got around her cousin in Houston, she started staying out longer and longer with her and eventually - I caught her - divorced - The second lasted 5 years as well but she was not like the first. She was paranoid and always accusing me of being unfaithful - never could get enough counseling to help our marriage - So the filings were in 2005 and 2012 - What did you say in your letter to request the waiver (if you don't mind my asking)

Thank you - that is encouraging - and yes - she is very aware of all these details. We discussed that very early in the relationship because I wanted to make sure she could accept me with this past history - Thanks again. Do you mind telling me more about how your story relates to mine? Even in a pm if you prefer - thanks.

Good points - I felt I was guilty of TMI as well - I was trying to address the challenge that a multiple filer faces in convincing USCIS that I am not involved in trafficking. The example that USCIS gives for why I am filing another application includes the death or insanity of my previous spouse. Nothing like that happened, we just divorced. I don't have a great answer as to why, at least nothing that USCIS would care to hear about. I won't impune the character of my two ex-wives, they are not horrible people, we just couldn't find common ground and divorced.

I haven't sent the letter to USCIS - I haven't filed yet - we are filling out the forms today -

Thank you for offering some insight. There is no connection between them. In each of the first two marriages, our relationship lasted about 5 years. They both have become productive working US Citizens and they met their current partners/husbands after our marriages were falling apart. - I wrote a letter which did cover the relationships - the timelines and basic facts without boring them with minutiae. I then maybe went too far and said how embarrassing the first two failed marriages were to me personally and to my family. I mentioned how expensive it was to sponsor and care for the first two as they continued their professional educations here, only to have both marriages crumble after 5 years each. I mentioned how tough it has been to consider asking my family to give me the benefit of a doubt and more to the point how I understand what this looks like to the USCIS officials as they go through the many applications daily that don't have these unique circumstances. I ended the letter by asking that they give me one more opportunity to sponsor and marry a woman from outside the United States. (Do you think it wise to appear vulnerable and include this level of candor?)

I have achieved the unfortunate accomplishment of having sponsored 2 women from the Philippines as my fiancee's - married twice and divorced twice. Well guess what? I didn't give up on love or filipinas. I have forgiven myself for the failures and am now engaged to another Filipina. The waiver process scares the snot out of me. So my questions: 1. I filed the first time in 2004-2005 - we were married in 2005 and divorced in 2010. 2. In 2012 I married another woman who I had sponsored and we were married from 2012 to 2017. 3. No arrests, no domestic violence - no legal issues at all. What is the best way to go about asking for a third chance at love? I understand that my story invites ridicule, but what I am really asking for here is some genuine advice on how to go about seeking a waiver - Thank you!!

SusieQQQ

reacted to a post in a topic:

Engaged but want to enter USA on a Tourist VISA

I hate to break it to your friend, but if she signed a document that is indeed a marriage certificate in any country, she is legally married in that country. That would only change how she goes about sponsoring him - she would need to sponsor him on a spouse VISA, not a fiancee VISA. But she really needs to see if she is the victim of fraud. Ghana is a hotbed of fraud and deceit. It seems odd that she went over on vacation, met and had an engagement party and signed legal documents. I know of no other instance where someone gets engaged in any country and signs official documents, especially if they were marriage documents being masqueraded as "engagement" documents. How is it that he and his family had "legal documents at all for her to sign?" She might want to spend a little money on an investigation into her fiancee's past before she agrees to anything else. Her husband says he is coming on a tourist VISA? I call BS on this person.... getting a tourist VISA from Ghana is a very difficult task and his story is highly suspect - ask her if she is supporting him financially at all?

I I'm in agreement with Honorary here - If this woman was smart enough to get a VISA to come to the US before and attend a University here, her English had to be manageable at the beginning and much better by the end of her stay here. The fact that the "friend" states categorically that no wrong was done by this person lends to that opinion, otherwise, how would they be so sure that nothing happened, in the very least the VJ member would normally say "she said nothing happened and I believe her". If the person who is having trouble would come here and ask directly, there are a lot of wise people on this forum who would be glad to help steer her toward answers. It honestly seems a little shady the way it is being handled.